FAMIGRO - An Award for Rural Entrepreneurship
The GROTENFELT family represents more than 350 years of diversified landowning in Finland. Famigro was founded by Karl GROTENFELT in 1985, a private company belonging to the family. In 2013, Karl created the Famigro Award, which is granted annually to a young (18 to 40) European countryside entrepreneur who has been making a special contribution to the rural economy, community and environment. Thanks to the initiative of Karl GROTENFELT, each year the YFCS can support an innovative project that has been operational for at least 2 years and provides answers to the current challenges of the rural sector.
Entrepreneurial projects contribute to the evolution of our rural countryside, while the respect of the environment and social responsibility is endorsed by each rural entrepreneur. The aim of the Famigro Award is to improve the project's success and growth by benefiting from the support of the network of the Friends of the Countryside (FCS) and Young Friends of the Countryside (YFCS), as well as the European Landowners' Organization (ELO).
The winner receives 5,000€, an article published in the Countryside Magazine and the opportunity to join the FCS & YFCS General Assembly in Siena, Italy in June 2024.
Our applicants and winners in recent years come from a wide range of industries and countries who have achieved great innovations with their unique ideas. From an innovative bio based soil additive, to rebranding a family estate, to a Regenerative Farming community in Spain and more.
Previous winners include: Silvibio, Gut Waltersteig, La Junquera, Coconat, Coucoo, Wildernest Tiny House and Wignac Cidre.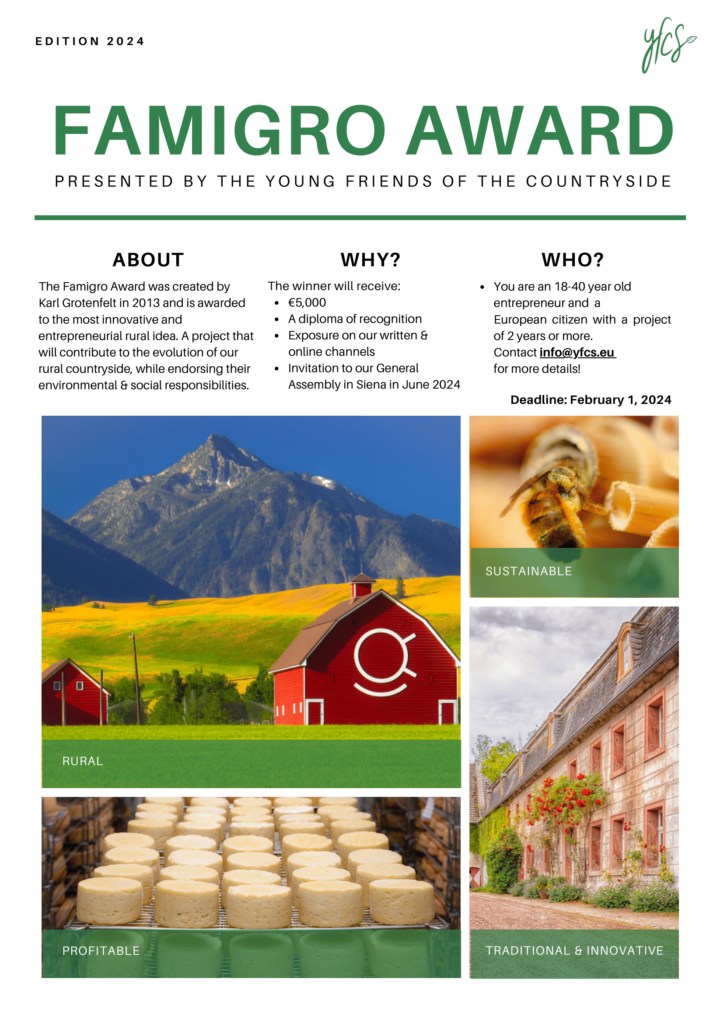 Criteria
Aged 18 to 40.
European entrepreneur.
Innovative rural project that has been operational for at least 2 years.
Deadline
The 2024 edition opens November 6, 2023 and applications should be sent before February 1, 2024.
Previous winners
| | | | |
| --- | --- | --- | --- |
| 2023 | Winner | SilviBio - Alicja Dziecoil | Link |
| 2023 | Diploma for Outstanding Developments | We Wilder - Oana Mondoc | Link |
| 2022 | Winner | Junquera Gut Waltersteig GbR Karl-Ludwig von Poschinger | Link |
| 2022 | Diploma for Outstanding Developments | Johan Ljungquist & Mikael Olenmark Gårdsfisk Scandinavian Aquasystems AB | Link |
| 2021 | Winner | La Junquera Regenerative Farm and Entrepreneurship HUB | Link |
| 2021 | Diploma for Outstanding Developments | Flourish Produce | Link |
| 2021 | Diploma for Outstanding Developments | Gut Waltersteig GbR | Link |
| 2021 | Diploma for Outstanding Developments | In Ovo | Link |
| 2021 | Diploma for Outstanding Developments | LettUs Grow | Link |
| 2020 | Winner | Coconat | Link |
| 2020 | Diploma for Outstanding Developments | Domaine Le Grand Castelet | Link |
| 2020 | Diploma for Outstanding Developments | Flourish Produce | Link |
| 2020 | Diploma for Outstanding Developments | Lynbreck Croft | Link |
| 2020 | Diploma for Outstanding Developments | Vanhakylä gård | Link |
| 2019 | No winner | | |
| 2019 | Diploma for Outstanding Developments | Baron Island Falconry Experience | Link |
| 2019 | Diploma for Outstanding Developments | Finca Rincón del Rosario | |
| 2019 | Diploma for Outstanding Developments | Fumal | |
| 2019 | Diploma for Outstanding Developments | SeedForward GmbH | Link |
| 2019 | Diploma for Outstanding Developments | SIRPLUS GmbH | Link |
| 2018 | Winner | Coucoo | Link |
| 2017 | Winner | Wildernest Tiny House | Link |
| 2016 | Winner | Wignac Cidre Naturel | Link |