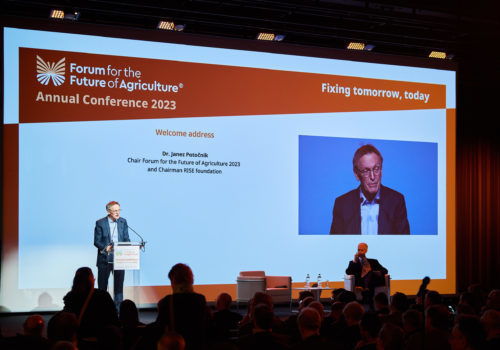 Forum for Agriculture Month of March 2023
The annual Forum for the Future of Agriculture was founded by the European Landowners' Organization (ELO) and Syngenta; they were joined by Cargill, IUCN, The Nature Conservancy, Thought for Food, The Chicago Council on Global Affairs, WWF Europe as strategic partners.
Created in 2008 in response to the belief that many of Europe's agricultural and environmental policies focused on solving yesterday's problems such as overproduction, the Forum instead deals with the challenges and market opportunities of the future.
The 2023 edition of the Annual Conference focused on the overarching theme of 'Fixing tomorrow, today'. Janez POTOČNIK, Chair ForumforAg 2023 and Chairman RISE Foundation identified the central challenge as: "How do we meet human needs and maximise our wellbeing in the most energy and resource efficient way?"
The Forum announced the "Call to Action" in response to worsening climate and eco-system forecast, committing to play its part in the building of a more resilient and sustainable food and agriculture system, which mitigates the effects of climate change and restores biodiversity and our eco-systems. This sets out seven key commitments, ranging from support for regenerative agriculture to integrating sustainability into supply chains and the global agri-food system.
The annual conference was also the opportunity to reiterate the collaborative initiative of four leading independent agricultural organizations from Australia, Canada, the European Union, and United States known as the "Global Forum on Farm Policy and Innovation (GFFPI)" to increase the sustainability of agriculture across the world.During the gala dinner of the Forum, prof Martin GERZABEK, President of the Jury, announced the winner and the recipients of the diplomas of recognition of the Land and Soil Management Award.
Outcomes
The ForumforAg 2023 brings together a wide and diverse range of stakeholders to inspire new thinking on how European and global agriculture needs to respond to the major challenges of delivering both food and environmental security.
The discussions in Brussels continued during the ForumforAg 2023 regional and topical events.