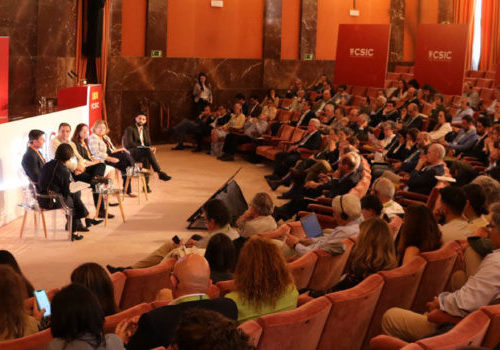 Agriculture and environment
Madrid was the venue for the regional event 2023, ahead of Spain taking the Presidency of the Council of the European Union. The opening session set the scene for the panel discussions to follow, with messages from a wide variety of stakeholders. Moderator and agricultural journalist Elisa Plumed moderated the discussion taking place at the Spanish National Research Council (CSIC). CSIC is the largest public research institution in Spain and one of the most renowned institutions in the European Research Area.
Special messages were delivered on forestry as a key part of sustainability; on the role of landowners as part of the solution; and on the evolution of the Green Deal and the decisive moment for the EU and for our planet.
Mr Potočnik, Forum's Chairman, returned to the theme of the annual conference – 'Fixing tomorrow, today'. How do we go about that? Start by re-ordering our priorities so that the economy serves humans and not vice versa. See humans as part of nature, not external to it. Move from stimulating extraction-based models to promoting more innovation and creativity-based models. And change our system of governance.
The panel debates focused on how is Europe's vision of agricultural sustainability affecting international trade; whether consumers will pay more for differentiated products; and what is the role of the regenerative agriculture in farming.
Outcomes
In the closing conversation, the participants expressed optimism about the transition towards sustainable agriculture and regenerative practices, despite some frustrations, such as insufficient scalability and polarization in policy discussions. They emphasized the need for concrete actions to shape the future of agriculture, highlighting recent initiatives like the Forum's "Call to Action".
It was also the opportunity to praise the entrants of the "Land and Soil Management Award" – the diploma of recognition was awarded to INNOLIVAR.